The Yugoslav Collection of the Graphics Cabinet houses 78 drawings of Sava Sumanovic from different periods of his work. The drawing Women Bathing (On the Beach), which was acquired from a private collection for the National Museum in 1967, can be singled out by its artistic significance, representationalism and monumentality. The drawing was made as a study for the painting with the same title from1929, which is the property of the Gallery of Matica Srpska in Novi Sad.
The early Sumanovic`s phase from mid 1920`s, i.e. after his second sojourn in Paris (1925-1928), is partly marked by drawings of female nudes and semi-nudes, single or in a group, in more simple or more complex compositions, most often landscapes, in the spirit of moderate post-cubist or neo-classicist Lhote-like stylization, which will later on be developed by the artist into a different, methodologically more systematic and entirely complete approach.  According to Lothe`s geometrical network of broken lines which surround two lying female nudes, it can be assumed that the drawing Women Bathing was created in 1928 at the latest. The composition was created in a classicist-Poussin manner, suggestive, figures are modeled like sculptures, forms are softer but still with traces of cubist-cezannesque style from the early 1920`s, which can be identified in the creation of the background.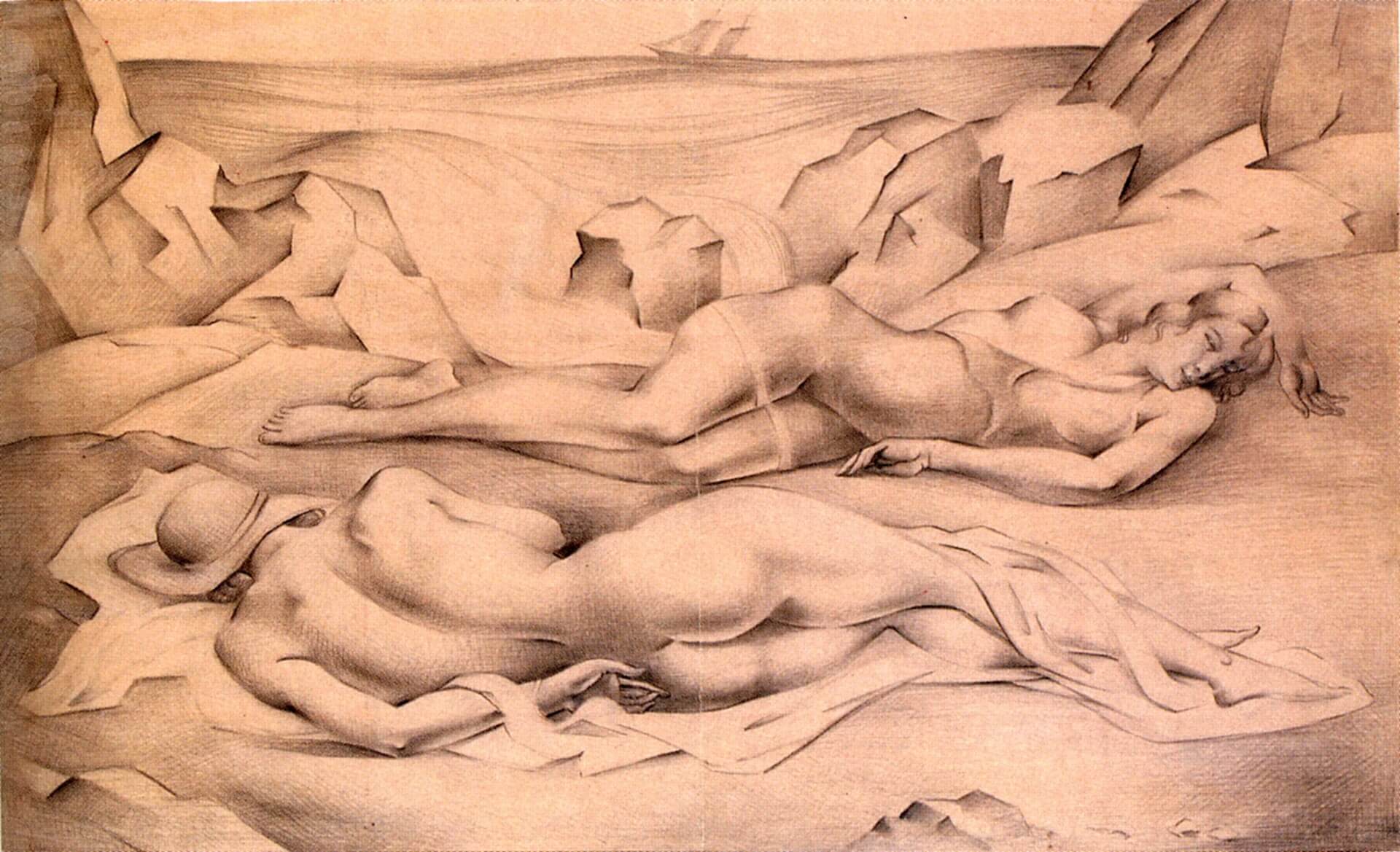 Sumanovic`s later period, after his definitive return from Paris, between 1935 and 1938, is in a certain way marked by his isolation from the public artistic entourage, by his stay in his native Sid, where he was recovering after illness, and simultaneously, we could say, by a fetishist dedication to one theme, emotionally and psychologically obsessive series of bathers, the so-called Women from Sid,  varying in over 60 paintings and 100 drawings (the Graphics Cabinet houses  about 30 studies). As a complete cycle, Women from Sid were presented on Sumanovic`s solo exhibition in Belgrade in 1939, which can be considered the end of his need from distancing himself from the outer world and simultaneous termination of the absolute dedication to this thematic whole.
Read more